Progress along the lake is indicated by the white mileposts sited at regular intervals. They are circular red discs with the distance covered marked on the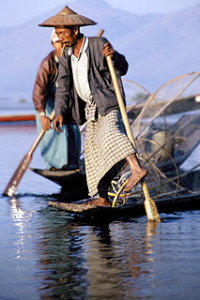 approach side and the mileage from the opposite destination shown on the reverse side. Boats carrying locals, visitors or tourists overtake our boat or speed past from the south creating tiny swells and spraying water on the people in our boat. Gulls follow tourist boats to chase food tossed in the air. Water fowl are prevalent as Inlay is one of three fresh water lakes in Myanmar classified as wildlife sanctuaries.
At milepost 6, we pass Inlay Bo Teh, once a government rest house but now an exclusive vacation spot for officials of the Ministry of Tourism. Villages and hamlets loom to the right, occupying the foothills with tall coconut palms, mango and other shade trees providing a green outline in the distance. Lake traffic is not heavy although there are a number of fishing boats, excursion, lake travel and commodity transport boats interspersed with the canoes of the Inthas — usually operated by women and children —tending plots in the floating gardens.
Some 13 kilometres out there is a village of 30-40 wood and bamboo houses about half with thatch roofing, the rest corrugated iron sheet roofed. Three kilometres furhter the boat enters a narrow, 23 metre channel with small villages on both sides. We now enter Ywama, called "the floating village" since all its streets are canala or chaungs. Ywama's daily floating market is one of Inlay's most well-known attractions. The main market day is Wednesday when there is a tremendous bustle of activity. Buyers and sellers all congregate in boats laden with the produce and products of the Lake. Fresh fruit, flowers, vegetables, meat and fish, opium weights and brass artefacts, bags and clothing are traded and there are many kinds of handicrafts for the souvenir seeker.
The next stop is Thar Lay village, famous for weaving. Almost every house has a loom for silk and cotton weaving. Many cafes cater to the hungry and thirsty. Together with the unceasing throng of the faithful, we walk to the top attraction and main sight of the tour, the Phaundaw Oo Pagoda on the canal bank.
This resplendent and well-maintained pagoda houses five Buddha images so heavily overlaid with gold leaf placed by devotees so as to make their original shapes unrecognizable. These images were brought back by King Alaungsithu in the 12th century from a expedition to the Malay Peninsula. The Phaundaw Oo has been revered by Buddhists for eight centuries and is one of the principal shrines in Myanmar. The three-day festival held annually in October at the end of the Buddhist Lent is an event of national importance. Four of the five Buddha images are carried on royal ceremonial barges past other main pagodas on Inlay Lake. This religious occasion draws participants and celebrants from all over the country to witness